House at a Glance
Location: 
Eastgate neighborhood of Bellevue, Washington
Size:
 3,000 square feet (279 square meters); three bedrooms, 1¾ baths
Year built: 
1969
This family recently relocated from Long Beach, California, to Seattle, leaving behind ever-present sunshine. "We moved in during the thick of winter and, boy, were we in for a surprise," Michelle says with a laugh. "It snowed 6 inches that weekend and here we were a bunch of Californians getting off the plane in flip-flops."
With the move, the family left behind its Cliff May-designed ranch home. Michelle, who owns home decor and vintage store 6th and Detroit, sought a house that was equally architectural and one where she could easily express her late-'70s California-inspired style, this time in a Pacific Northwest setting.
The 1969 home, designed by Seattle architect Omer Mithun, has everything they were looking for: "Floor-to-ceiling windows, midcentury architecture and an insane view of the horizon that made you feel like you were in the heavens," Michelle says.
Wall hanging: Ay Que Vintage; mirror: D+K Renewal; PS 2014 plant stand: Ikea; vintage gold plant stand: Mazidori; vintage wicker plant stand: Vintage Seattle Rain; white planter: Peacock & Co.; green planter: Home Depot; lamp: Mod Pop Vintage; Fireside faux fur throw blanket: Anthropologie; blanket: Etsy; plant basket: HomeGoods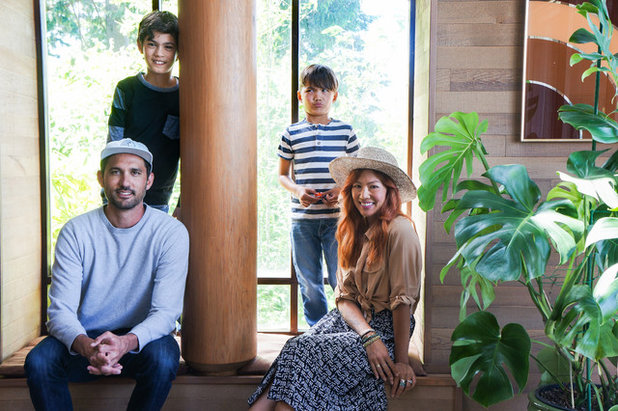 Before making the move, the family had just one weekend to tour homes and make a decision. After viewing four houses, it was starting to get discouraged. "The second we walked through the door of the fifth house," Michelle says, "it screamed out to us, 'This is it!' "
Karim, left, Hamilton, Davis and Michelle are pictured here in their formal living room, where they spend the most time. "It was interesting to see that in our new house we still all hang out in the same room at the same time every day as we did in our California home. Creatures of habit I guess," Michelle says. "It's where I can lounge, work, chat when guests come over, fold laundry, play games with the kids and just 'be' when I get those free moments of quiet."
The entryway showcases the home's subtle Asian design influences. "It was perfect," Michelle says. "There was an immediate East-meets-West Zen feeling that brought an instant calm."
Desk and bench: 6th and Detroit
Michelle credits her Southern California upbringing for her signature aesthetic, which often features a sunburned color palette. "My love of sun makes me gravitate toward pops of yellows and oranges," she says. The hues also pair perfectly with a 1970s-inspired look. "I love midcentury and I love the '70s, so I like to marry the two," Michelle says.
Sofas, rug and armchair: 6th and Detroit; metal wall art: Fremont Vintage Mall
This mix of styles is seen in the downstairs living area. "You'll see a handsome tapered-leg teak coffee table paired with a wicker room divider," Michelle says.
Daybed sofa: Overstock; Mexican serape: 6th and Detroit; rug: OfferUp; midcentury teak coffee table: Vintage Seattle Rain
Michelle found this pair of midcentury armchairs and the woven side table at Goodwill. "We were on a very tight decorating budget, but luckily my love for vintage and deal hunting pays off," she says.
Houseplants decorate nearly every corner of the house. In Michelle's words, there are "plants galore." The lower level has wide-open views of the large, wooded backyard. "As an outdoorsy family, having the yard wrapped around the home full of the great evergreens is the boys' perfect playground for exploring and adventures," Michelle says.
Rattan peacock chair: Vintage Seattle Rain 
"My love of the sun makes me gravitate toward circles," Michelle says. Circular shapes are seen in a number of decor items in the home. Here, a mirror with a quarter-circle pattern forms rainbow-like imagery behind a vintage floor lamp.
Throw pillows: D+K Renewal
The open kitchen is in between two upstairs living areas, where plentiful windows look out to downtown Bellevue and Lake Washington.
The living room opens onto a deck with an outdoor dining area. "We get to dine alfresco while watching the perfect view of the sunset, hearing nothing but birds chirping. It's magical," Michelle says.
Russell Woodard patio set: The Fair Trade Union; jute rug: OfferUp
The home's Pacific Northwest influence can also be seen in its unique round columns that run through the upper-level communal spaces. They're reminiscent of totem poles, a symbol adopted by Seattle as a symbol of the city during the Klondike Gold Rush of the 1890s.
The family room connects to a patio on one side and a deck that overlooks Lake Washington on the other. The house is larger in square footage than the family's Southern California home, and this bonus living space gave Michelle room for her blush-colored velvet Adrian Pearsall sofa, which she calls her "biggest splurge of all time."
Adrian Pearsall sofa: Sunbeam Vintage
Circles and half circles repeat in the wall art and accessories in the guest bedroom. "I tend to always lean toward natural elements, wood textures and all the plants I can get my hands on," Michelle says.
This room comes in handy when family comes to visit from California.
Pillows and sheets: Jungalow; accent pillows: Myhavenhome; wall hanging and nightstand: Vintage Seattle Rain; mirror: 6th and Detroit; 
A large, wraparound bed frame Michelle found on Etsy and a scalloped mirror from her shop, 6th and Detroit, are focal points in the master bedroom.
Monte Viso bedspread: Hamamlique; 
George Nelson cigar bubble wall sconces: Modernica; bed: Etsy; sheets: Macy's; pillows and rug: D+K Renewal; pot: Peacock & Co. 
"This home encourages play and discovery because it feels like it's nestled deep within a forest," Michelle says. That vibe is evident in the boys' bedroom, where picture windows put the lush surroundings at their fingertips.
Santa Fe Mission bunk beds: Camaflexi; Golden Canyon duvet cover: Circa 78 Designs; Ornos pillow cover in yellow: Hamamlique; rug: 6th and Detroit
When spring arrives, it changes how the family uses the home. "We finally get to use the outdoor spaces and fulfill our yearning for indoor-outdoor living that we are so used to," Michelle says. A bench on the front porch creates a staging area for the family's outdoor gear — everything from rain boots to coolers to fishing poles for weekend fishing trips with the boys.